Workshops
Learn Thai Workshops and Webinars
LEARN TO READ THAI IN ONLY SIX DAYS – THE 'RAPID' WAY!
Next workshop: September 3-8 (Sat-Thurs, 8am-5pm) in Chiang Mai
Come to this remarkable Accelerated Learning course:
jumpstart your ability to communicate in Thai;
start your journey to fluency;
probably the fastest and most effortless language learning system in the world….
and no need to memorize anything!
plus it's guaranteed…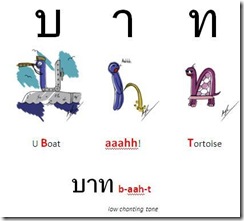 Thai is a relatively easy, highly logical and consistent language (unlike English). Reading Thai requires "solving the puzzle" for each word. After the course you will finally be able to read Thai menus, the labels on your beer bottles and understand what all those little shops down the "sois" are selling – the cheap laundry service, the car wash & polish, the computer repair shop, the dressmakers, what kind of beauty treatments or massages are available, cheap rooms for rent, etc. etc. 🙂
Not to mention, knowing whether that lane you're about to turn into is a short cut or a dead end…!
REFRESHER WEEKEND in Chiang Mai (October 7-9, Friday 12-6pm, Sat/Sun 8am-5pm)
for Rapid Alumni or anyone who has fully completed the online course
October 2013
August 2017
October 2017
February 2014
What did the Norwegians say?
Comments from a German, a Brit and an American
Richard in March 2015
"Just do the course… it's the best way to learn Thai."
Becky in March 2015
"Warning! It's R-Rated."
Try it out for yourself now
Dates and Locations
Weekend Refresher Workshop

October 7-9
Fri 12pm-6pm
Sat/Sun 8am-5pm

Price: 12,000 baht

Chiang Mai – for alumni only, or if you have already fully completed the online course.

Intensive Read Thai bootcamp

September 3-8
Sat-Thurs 8am-5pm

Price: 42,000 baht

Chiang Mai
Come join us for a learning holiday in Chiang Mai where it's cooler, more pleasant and easier to get around.
Bootcamp Discounts
฿4,500 off pax if you book two or more people together (please contact me first).
Just the difference to pay if you've already purchased a Rapid Read Thai online course.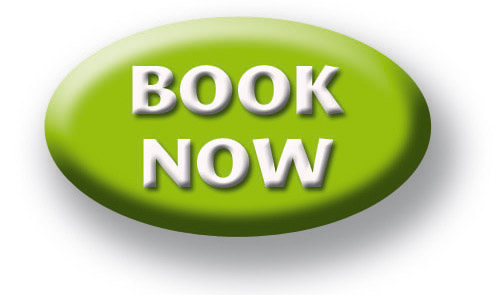 Price:42,000 THB
Click here to book
Note: To pay by credit/debit card, choose PayPal (you don't have to join). And we also accept direct transfers to a Thai bank (baht) or local currency in Europe, UK, USA, Australia and New Zealand, in which case choose Pay by Bank Transfer.

WHAT YOU GET
This is the start of a one year program to become conversationally fluent in everyday Thai.
Included in the program: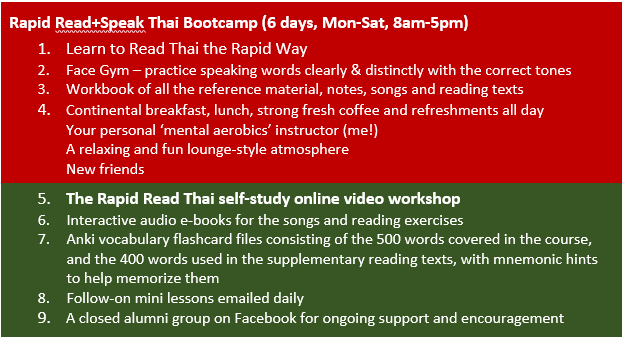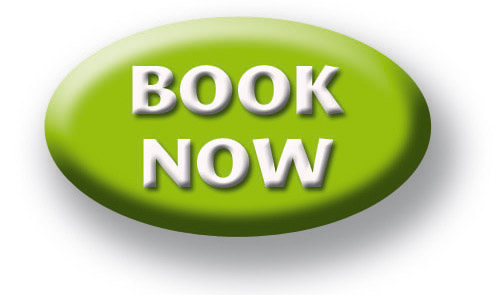 Price: 42,000 THB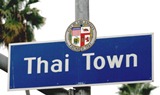 Skeptical…? Is it a gimmick or a scam?
It sounds too incredible to be true, but rather than take my word for it,
here's what (real) people have said about my course recently:
I wanted to thank you for an excellent weekend. I asked my Thai teacher today if she thought it possible for someone with no prior knowledge to learn to read Thai in two days. She said no. When I read some Thai to her she said, "It's a miracle!!!" Simon Gunn, Managing Director, Channah Thailand
Thank you Gary, it has been tremendous fun and tremendously motivating. Ian Chapman, Mayer Brown JSM
It was excellent, I learnt and retained more information [in one day] than I had in the previous 3 months by conventional teaching methods. Mark Pirie, Triumph Motorcyles
I was [astounded] at how I absorbed your material and was able to apply it. […] Well done mate – your depraved teaching methods really work. Jeff Lafaro, Uhde Shedden
more comments, good and bad, from participants (and skeptics)…