One Year Language Exchange Visa Program
With our Family Learning Center, based near Bo Sang, 15km east of Chiang Mai City, you can register as a volunteer for the Language Exchange Program.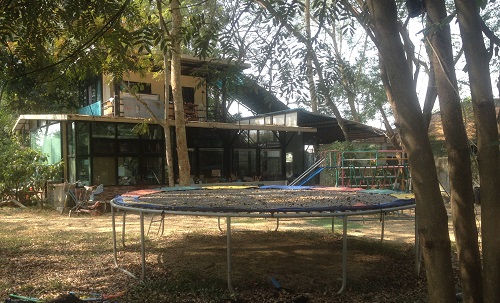 This is the ideal way to spend a full year in Thailand – without the need for visa runs every 2-3 months – and learn Thai language and culture by working with and getting to know local Thai people in the community.
An additional advantage is that you can apply for a work permit that will allow you to work  legally in Thailand for the duration of your stay.
We have fast fibre-optic wifi, a kind of co-working environment, facilities for web-camming and even a studio for high-quality audio/video recordings.
So if you have some work you want to do involving online teaching or webinars or making YouTube videos or any kind of audio-recording (e.g. voiceover) then you can do it with us.
We can help you find convenient and inexpensive accommodation nearby, within 30 minutes from the city. You will be living in the countryside yet have all the benefits and enjoyment of a sophisticated, cosmopolitan and fun city.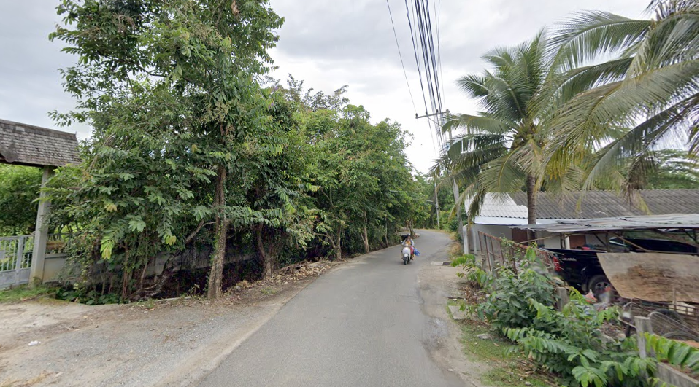 Or if you enjoy nature then you're literally 10 minutes away from rural farmlands; and only 30 minutes away, in the other direction, to rivers, lakes and mountains – not to mention the hot springs, swimming pools (and an amazing water park), small & intimate yoga studios, gyms, exotic temples, Thai & foreign restaurants, bakeries, coffee shops and pizzerias, shopping malls and fresh food markets.
Details of the Rapid Thai Language Exchange Program
Basically, you will follow the Rapid Method for learning Thai in a hands-on manner.
Start with the Rapid Read Thai course. You can complete this on your own online (at home or at the Learning Center)… or by attending the intensive Six Day Rapid Read Thai Bootcamp.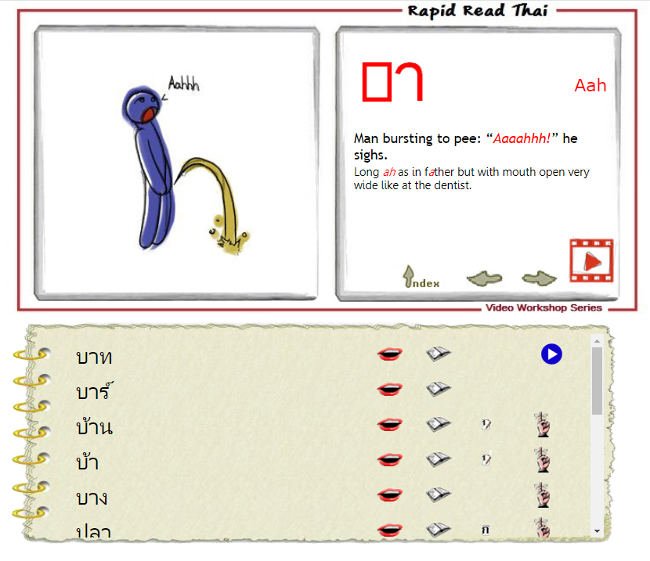 Once you can read, you will work through the Supplementary reading & pronunciation exercises and the Everyday Thai for Beginners conversational course with the help of a Thai person in exchange for English conversation practice.
(It needn't be English. If you speak another language then we can find a Thai person who is currently learning your language.)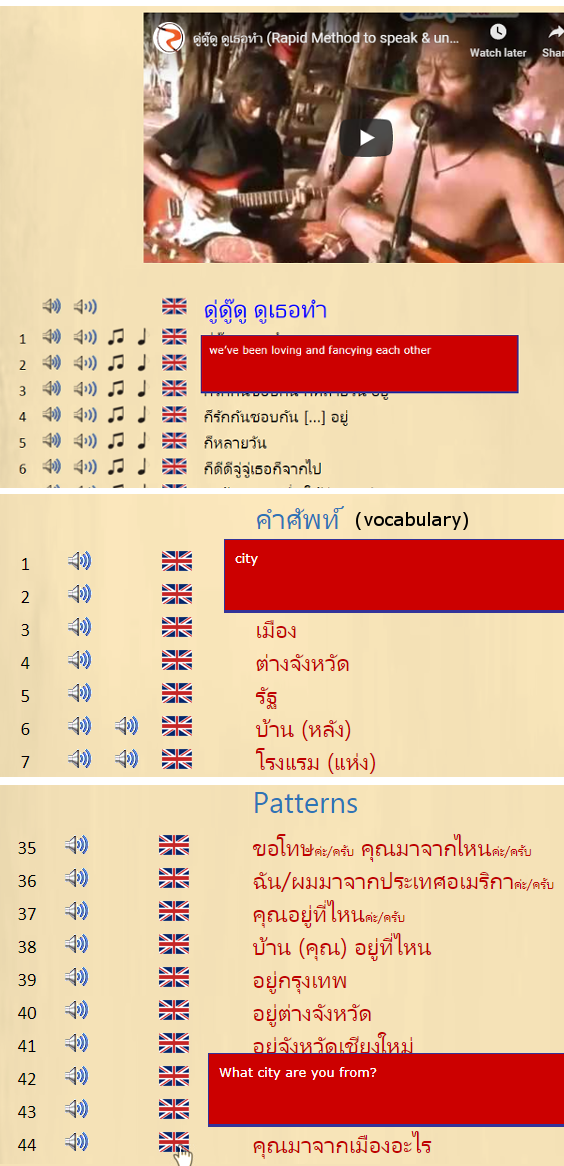 You should aim to spend about two hours twice a week at the Learning Center with your language exchange partner (or partners). The schedule is highly flexible. You arrange it so that it is convenient for each of you.
Your Thai language partner would help you understand the Thai material by trying to explain it to you in English. It's good conversational practice for her/him and will help improve her/his English in a reverse-engineering kind of way.
Or you could could even teach guitar or piano or coding, say, in return for your Thai lessons…!
Requirements
This program is not open to anyone. It requires commitments on the part of several people. So we will only be inviting people who are relaxed, easygoing and non-judgmental; and who are serious about learning Thai and about Thailand and getting to know Thai people.
You should also contribute your knowledge and skills in some way. Ideally, you can teach something a few hours a week – to kids, teenagers or adults (Thai or foreigners).
If you can teach something like music or coding or marketing/ecommerce/design skills, or art or yoga or dance or self-defense, or smart-farming, say, then we'd love you to run a weekly class for interested participants.
There are also various administrative requirements for obtaining your visa and work permit and we will explain what's required for your individual case.
Costs
Besides the Language Exchange Program Fees, the costs for living in Thailand for one year will obviously depend on your personal lifestyle and preferences.
The program fees are paid in the form of a donation to the Learning Center, a non-profit foundation registered in Thailand. We use these funds to pay government fees, running costs, modest labor costs and equipment purchases for the center.
Below are the typical costs for a reasonably comfortable and enjoyable time in Thailand, drinking moderately, using the aircon sparingly, occasionally exploring other parts of Thailand and staying in budget accommodation – and eating some Thai and some Western food.
The more you live a Western lifestyle (wine, coffee, desserts, pizza, steak; partying, staying in fancy resorts, etc.) the higher your living costs will be.
We can also help you to live cheaply and can arrange to sell your items when you leave. For example, we can help you find a decent scooter and helmet for around ฿26,000 (possibly a lot less) and then sell it (or we buy it back from you) for around ฿18,000. So the actual cost of owning a scooter for a year is only ฿8,000 plus fuel & maintenance. (Just renting a scooter will cost around ฿3,000 per month.)
If you're happy to live in a kind of dormitory-style room (42m² / 450ft²) without aircon and just fans to keep you cool then you can live very cheaply indeed (฿3,000 per month).
If you're not on a tight budget then for around ฿8,000 –  ฿9,000 / month (incl. electricity and fiber internet) you can get a whole house and garden with 2-3 bedrooms and aircon.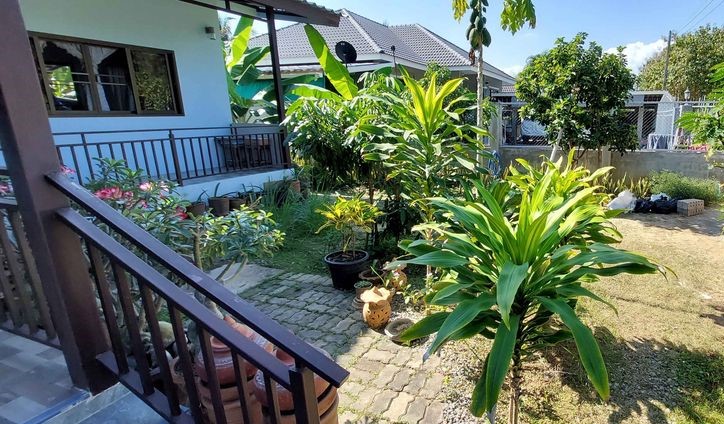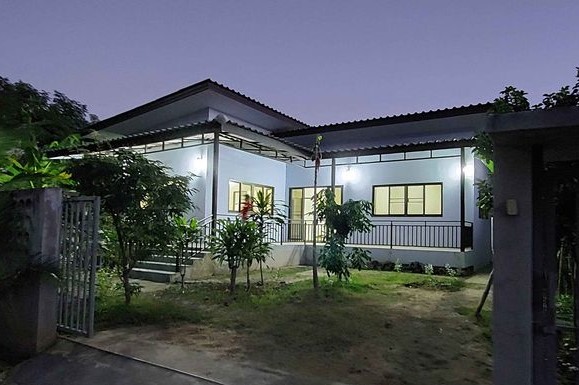 The cheapest you could probably live (comfortably), somewhere nearby, without aircon, eating mostly Thai food and occasionally going out to eat a Western-style buffet or a night out on the town, would cost about ฿20,000 per month.
Maybe a bit less… but there will always be unexpected costs, so on average, you should make sure you have at least this amount each month.
Keep in mind that you should at least have travel insurance to cover you in the case of accidents or illness. You are likely to get ill or have to get treated at a clinic or out-patient's department. And you will probably want or need to go to the dentist. You may also want to buy or repair or replace your phone or computer, or buy clothes or gifts.
And don't forget that you can legally work in Thailand. But you'd earn far more simply by working online (e.g. teaching online) or running an online business of some kind. We can help you with that…!
Language Exchange Program 

60,000

Visa extension & Work Permit (government) Fees

10,000

Rapid Method Thai Courses

20,000

Rapid Read Thai Bootcamp (optional)

20,000

Total Program Fees

฿90,000 – ฿110,000

Initial Settling-In Costs
 

Rental Security Deposit (refundable)

10,000

Furniture & Fittings

20,000

Scooter (used) (resaleable value ฿18,000) + tax + insurance

26,000

Car (used) (resaleable value: ฿40,000) + tax + insurance

72,000

Thai Driving License

(2,000)

Total
refunded: ฿28,000 or ฿50,000

฿56,000 or ฿102,000

Cost of Living
 
Rent + electricity + water + internet


6,000

Mobile phone plan

600

Food (incl. groceries & toileteries)

12,000

Entertainment, eating out and getting around (variable)

6,000+

Travel and out-of-town accommodation (say, 3-4 days per month)

5,000+

Miscellaneous and contingencies

5,000+

Total Monthly Expenses

฿25,000 –

฿35,000