Learn Thai Workshops and Webinars
Reading Thai requires "solving the puzzle" for each word. After the course you will finally be able to read Thai menus, the labels on your beer bottles and understand what all those little shops down the "sois" are selling – the cheap laundry service, the car wash & polish, the computer repair shop, the dressmakers, what kind of beauty treatments or massages are available, cheap rooms for rent, etc. etc. 🙂
Not to mention, knowing whether that lane you're about to turn into is a short cut or a dead end…!
Dates and Locations
(Scroll down for the intensive six-day bootcamp or for the Alumni Refresher Weekend…)
Rapid Read Thai Online Workshop
Asia Time Zones
15 Week Days
January – dates to be confirmed
10am – 1pm
(Provisional. We will select dates and times that suits everyone if possible.)
Price: ฿15,000 THB + ฿10,000 for the Rapid Read Thai course material if you don't already have it.
Starting from Day 1, we will learn to pronounce the tones accurately using the same tones we have in English.
Gradually, we will learn the most important letters and immediately read (and pronounce) words using the letters and tones we have learnt so far.
The schedule is more or less as follows:
Sex, tones and first letters

Basic letters

Tone marks and the sex-change doctor

Basic vowels

Fused consonants

Combination and "dirty" vowels

Advanced and obscure letters

How to read the modern fonts

Reading menus, songs and stories

Wrap-up: the 20 reading rules and the 10 rules for reading sentences without spaces
By the end of the course you will be able to read just about any Thai word accurately and with the correct tones.
You won't necessarily understand what you are reading. That comes later with the follow-on conversational courses.
But already you can start to pick up vocabulary from your surroundings by reading the menus, notices and street signs. You can guess many of them, many already have English translations, and the rest you can look up in your dictionary app.
One useful bonus about building vocabulary this way is that you tend to remember a word more easily if you have a visual image of it and where you saw it.
Intensive Read Thai bootcamp
April 15-20
July 15-20
December 16-21

Six Days (
Saturday – Thursday) 8am-5pm
Chiang Mai
Enjoy an intensive, but relaxed learning holiday – away from distractions and work commitments – at a nearby resort (฿700/night) with a delicious a-la-carte breakfast, dinners and fresh coffee on demand all day. And go back feeling refreshed and literate!
Price: 42,000 baht
Discounts:
฿4,500 off pax if you book two or more people together (please contact me first).
Just the difference to pay if you've already purchased the Rapid Read Thai online course.
Note: To pay by credit/debit card, choose PayPal (you don't have to join). And I also accept direct transfers to a Thai bank (baht) or to local banks in UK, Europe, USA, Australia or New Zealand, in which case choose Manual Payment to find the respective bank account details. And use Google or XE to calculate the mid-rate of exchange.

This is the start of a one year program to become conversationally fluent in everyday Thai.
Included in the program: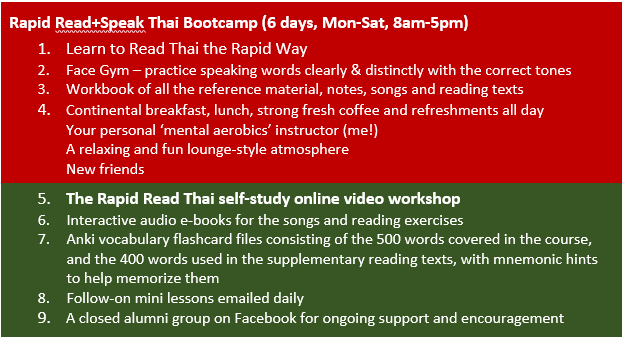 Note: To pay by credit/debit card, choose PayPal (you don't have to join). And we also accept direct transfers to a Thai bank (baht) or a UK bank (pounds), in which case choose Manual Payment.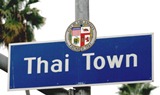 What You Get
Skeptical…? Is it a gimmick or a scam?
It sounds too incredible to be true, but rather than take my word for it,
here's what (real) people have said about my course recently:
I wanted to thank you for an excellent weekend. I asked my Thai teacher today if she thought it possible for someone with no prior knowledge to learn to read Thai in two days. She said no. When I read some Thai to her she said, "It's a miracle!!!" Simon Gunn, Managing Director, Channah Thailand
Thank you Gary, it has been tremendous fun and tremendously motivating. Ian Chapman, Mayer Brown JSM
It was excellent, I learnt and retained more information [in one day] than I had in the previous 3 months by conventional teaching methods. Mark Pirie, Triumph Motorcyles
I was [astounded] at how I absorbed your material and was able to apply it. […] Well done mate – your depraved teaching methods really work. Jeff Lafaro, Uhde Shedden
more comments, good and bad, from participants (and skeptics)…
October 2013
August 2017
October 2017
February 2014
What did the Norwegians say?
Comments from a German, a Brit and an American
Richard in March 2015
"Just do the course… it's the best way to learn Thai."
Becky in March 2015
"Warning! It's R-Rated."
Try It Out for Yourself Now